Cairns' new pop-up arena
Date: 23/04/2021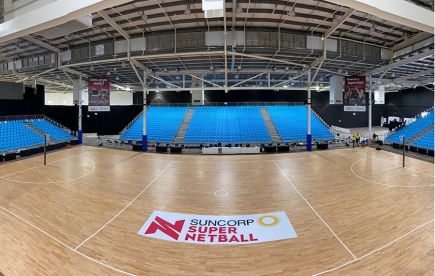 The Queensland Government has created a pop-up sporting hub in the heart of Cairns. Owing to its accelerated delivery, the region was able to secure three Super Netball games - a first for Far North Queensland.
The Department of Energy and Public Works, in collaboration with Cairns Regional Council, brought the venue to life in just five short weeks.
The former warehouse was transformed into a venue tailored for events to help activate the Cairns tourism industry. QBuild delivered this work with hard work of 147 local Cairns residents and the support of 52 contract packages, 100% of these packages have gone to Cairns businesses
The transformation of the former hardware store included the installation of temporary seating, amenities and broadcast overlay for televised fixtures and other community events, creating a 2000-seat arena in Portsmith.
The Taipans returned to the temporary arena to face the Adelaide 36ers on 28 March, with several more games to be hosted locally in coming months.
The Department is continuing to work with Tourism Events Queensland and the Cairns Regional Council on event attraction for the summer.
Last updated:

30 March 2021