Minister's Award for Urban Design
Date: 29/05/2022
The Minister's Award for Urban Design recognises contemporary Queensland urban design projects of the highest quality. It encourages cities, towns and communities across Queensland to strive for best practice in all projects. The award highlights:
the critical role of good urban design in shaping Queensland
how collaborative relationships can lead to the successful development of the built environment.
Nominations for the 2022 Minister's Awards for Urban Design will open in early 2022 and typically includes entries from the Australian Urban Design Awards held in the preceding year.
2021 Minister's Award for Urban Design
In 2021, 24 nominations were received for the Minister's Award for Urban Design. Ranging from city-wide thinking to fine-grain placemaking outcomes at a neighbourhood level, the nominations reflect a state-wide commitment to good design outcomes within the built environment.
This year the jury has recommended 4 Awards and 3 commendations for projects that:
challenge the status quo
demonstrate leadership and design excellence
will leave lasting, sustainable legacies for the broader community, albeit at varying scales.
Winner
Award – Built Award - Large Scale
Project: Queensland Country Bank Stadium
Location: Townsville
Team: Cox Architecture in collaboration with Counterpoint Architecture and Stadiums Queensland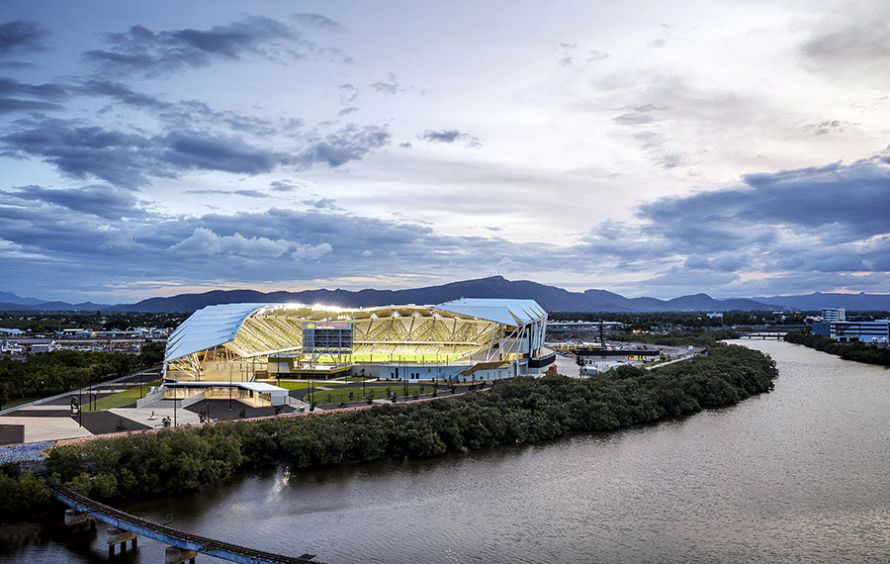 Image Credit: Christopher-Frederick Jones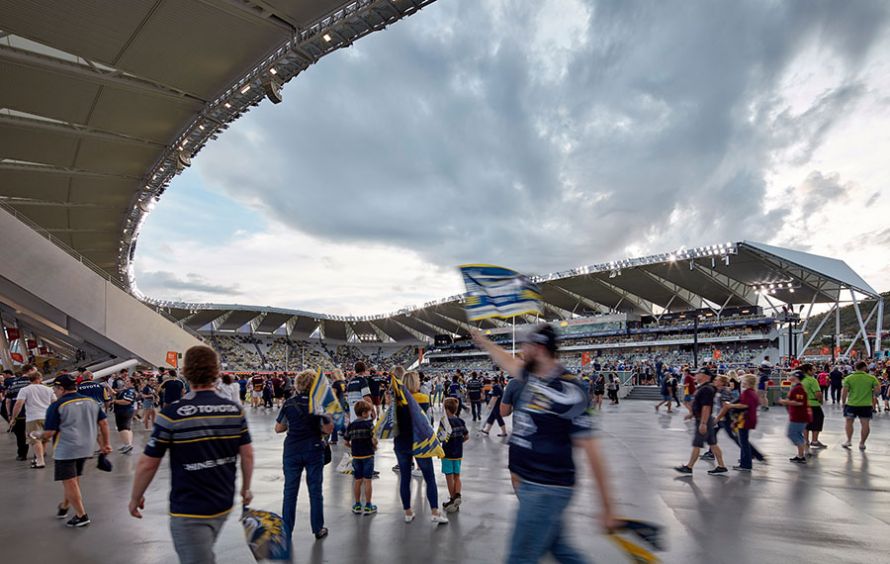 Image credit: Andrew Rankin
This exceptional city-building project is a game changer for Townsville, providing a catalyst for urban development in Queensland's north. This bold and city shaping project signifies the convergence of imagination and pragmatism - embodying the charisma of the local context while creating an intimate, community setting for major sporting and entertaining events. The real testament of this project will be the future development activity that leverages off this project, continuing the urban renewal for the Townsville waterfront and CBD.
The Jury recognised the sense of identity and Far North Queensland character that the stadium conveyed and its significance in building momentum and confidence in the city. The project team should be commended for its transformative impact, constructive and inclusive engagement processes and exceptional architectural outcome.
Winner
Award – Built Award – Small Scale
Project: Joints Projects: Slacks Creek Green Link together with Dennis Road Shared Pathway and Murrajong Streetscape Works
Location: Slacks Creek and Springwood
Team: Logan City Council with AECOM and Logan City Council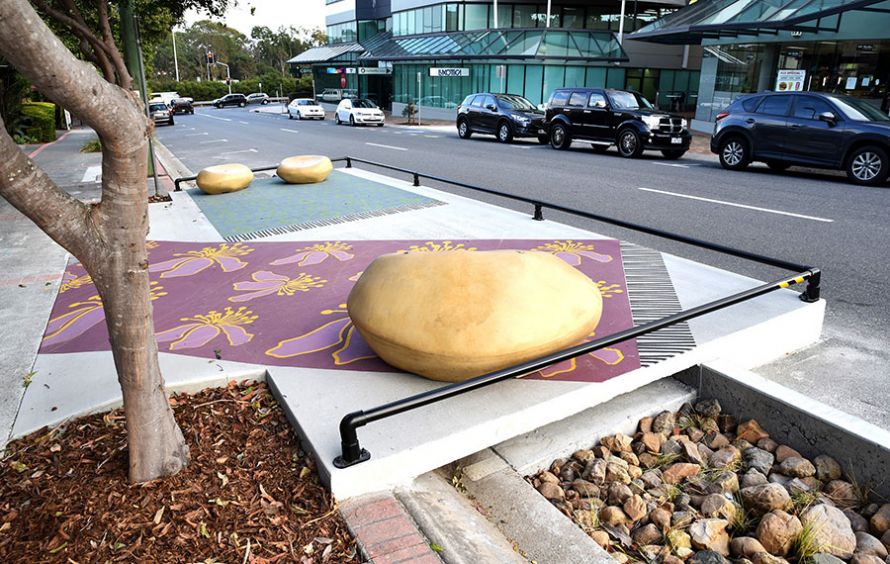 Image credit: Logan City Council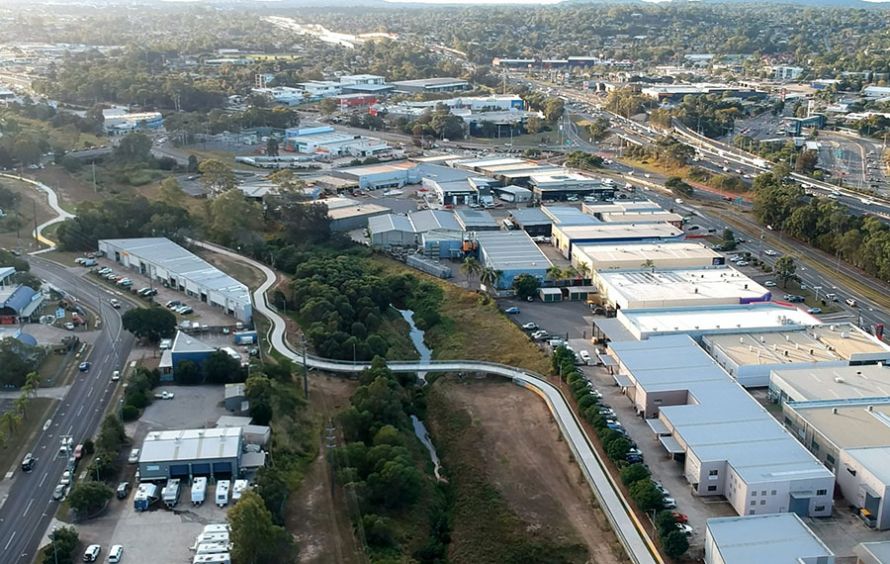 Image credit: Logan City Council
The Slacks Creek Green Link and the Dennis Road to Murrajong Streetscape Works seek out new urban opportunities founded on a strong local desire for better pedestrian and cycle connectivity, safety and amenity. Embellished with bright picnic rugs and paper cranes, these simple pathway projects provide greater awareness of the areas hidden assets whilst building local identity, pride and a sense of place. Critically, these fine grain projects unlock previously underutilised spaces along creek corridors and industrial areas while contributing to the ongoing repair and renewal of a suburban centre fragmented by fast-moving freeways, off ramps and service roads.
In co-awarding these Slacks Creek and Springwood based projects, the Jury acknowledges 'doing a lot with a little' the importance of building stronger local connections during a global pandemic. The significance of well-designed environments that encourages people to lead a more active and social life is no more important than in a post-COVID world. The Jury commends Logan City Council for their continued investment in small-scale community shaping infrastructure underpinned by authentic community engagement. It takes a lot of energy and commitment to see projects of this ilk from vision to reality and their benefits are often only revealed over time and as a result of ongoing investment in the making of healthy places in the most humble locations.
Winner
Award – Policy
Project: Urban Canopy Mapping
Location: City of Gold Coast
Team: City of Gold Coast in collaboration with Arup and Dr Lyndall Plant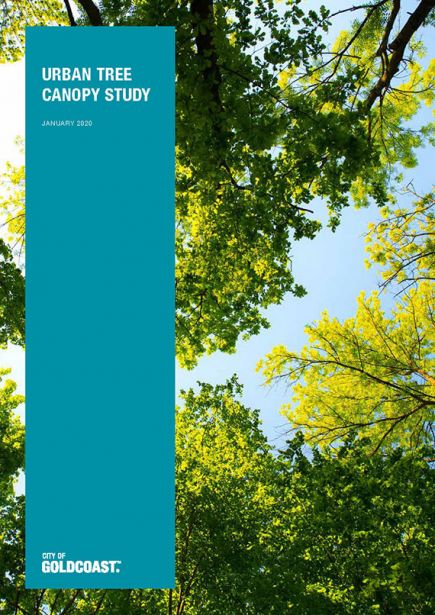 Image credit: City of Gold Coast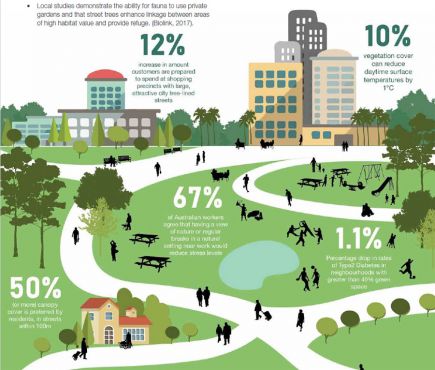 Image credit: City of Gold Coast
The City of Gold Coast's Urban Canopy Mapping is a significant evidence-based research project that identifies the value and impact of urban tree canopies in one of Queensland's fastest growing regions. The Urban Canopy Mapping project maps individual trees and establishes baseline tree canopy data for both native and exotic urban trees within the Urban Footprint. Importantly, the Jury notes that at a time where the understanding of the impacts of urban heat island effects is gathering apace, this project has measured the change in canopy cover over time, enabling the prioritisation of areas investment and leading ultimately to cooler, greener, healthier neighbourhoods.
The Jury recognises the considerable positive influence this project will have on the City of Gold Coast and beyond, noting that good decisions cannot be made without solid baseline data. The Jury applauds the City of Gold Coast in commissioning this important strategic guidance document that will have multiple long-term benefits in delivering design excellence together with health, well-being and economic outcomes across the City for years to come. The Urban Canopy Mapping project provides a blueprint for work to be considered by other urban councils across Queensland, but particularly those councils in South East Queensland.
Winner
Award – Master Plan
Project: Tropical Design Studio: Strategic concept masterplans in northern Queensland country towns
Location: Tablelands Regional Council, Cassowary Coast Regional Council, Hinchinbrook Shire Council
Team: Tropical Urbanism and Design Lab (TUD Lab) at James Cook University (JCU) with CA Architects, LA3 Landscape Architecture and TPG Architects with Tablelands Regional Council, Cassowary Coast Regional Council and Hinchinbrook Shire Council
Image credit: Tamara Katai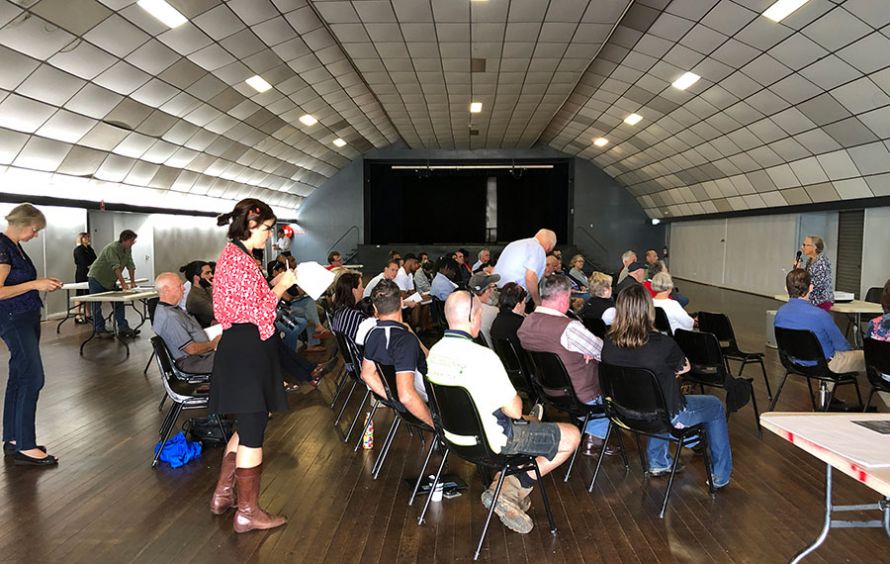 Image credit: Lisa Law
The Tropical Design Studio: Strategic concept masterplans in northern Queensland country towns epitomises excellence in urban design education, mentoring and practice. The Jury notes and congratulates all involved in developing such a comprehensive methodological approach for these discrete, 'annual small country town master plans' that encourages great practice at an individual, industry and community level. Without doubt, this project is an important and practical investment in the future of urban design in Queensland, that utilises an innovative and passionate approach to delivering affordable, strategic advice while building community and industry capacity. The approach used is novel and authentic.
The Jury recognises this visionary master planning process provides a comprehensive strategic framework for each of the country towns involved, encouraging 'bigger picture' thinking to resolve and improve issues unique to each town over a short, medium and long timeframe. The Jury notes that the quality of every town and community matters - with a limited opportunity to build economic resilience in communities if they are not places where people want to live, work or visit. The methodology deployed for these projects has assisted to build community capacity and resilience as part of the urban design process.
The Jury commends Tropical Urbanism and Design Lab with CA Architects, LA3 Landscape Architecture and TPG Architects together with Tablelands, Cassowary Coast and Hinchinbrook councils each leading by example, establishing a culture of collaboration and valuing design excellence. The Jury eagerly awaits the transition of these exciting, tailored country town visions into exciting integrated built outcomes in the years ahead.
Commendations
Built Category
Project: University of Queensland Gatton Campus Entry and Heart
Location: Gatton
Team: Lat27 with the University of Queensland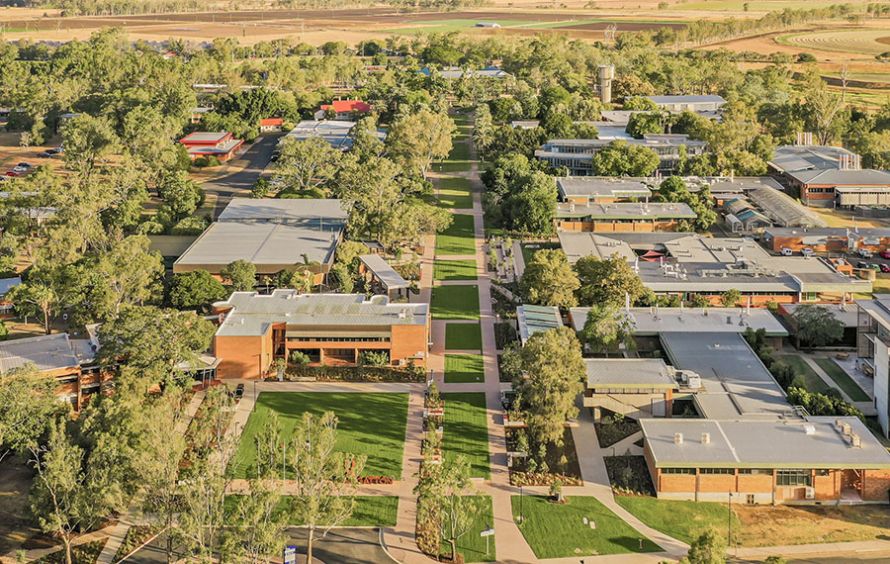 Image credit: Mogul Media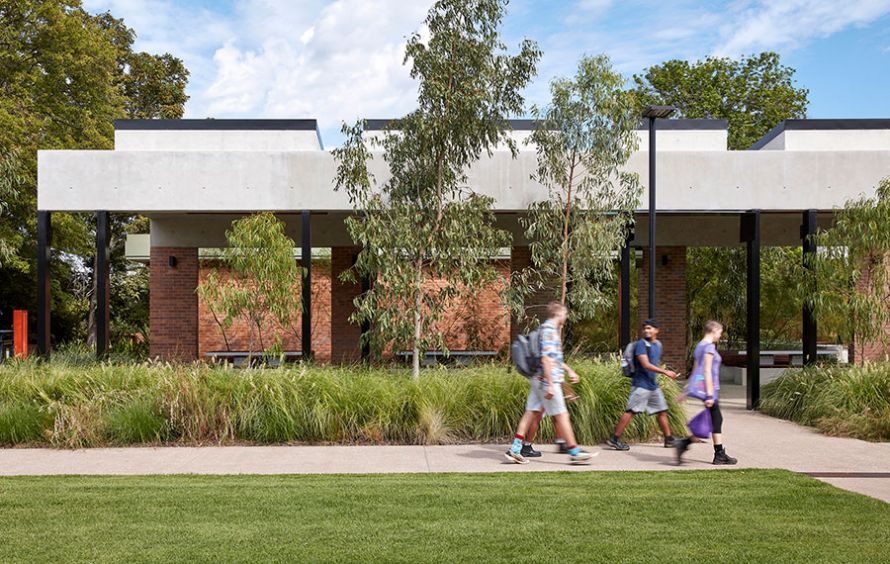 Image credit: Christopher-Frederick Jones
Simplicity is key to the new University of Queensland Gatton Campus master plan. Utilising a central spine and grid arrangement, the new master plan celebrates the campus' history while achieving an enriched sense of arrival and connectivity through the site. Enhancing the qualities of the space with structures and built elements, the master plan offers places to gather and socialise while creating an active campus heart.
The Jury commended this successful design outcome that is visually beautiful and ties together the existing features of this understated campus, drawing on its unique architectural and rural characteristics.
Project: Caboolture to Wamuran Rail Trail
Location: Caboolture and Wamuran
Team: Wolter Consulting Group with Moreton Bay Regional Council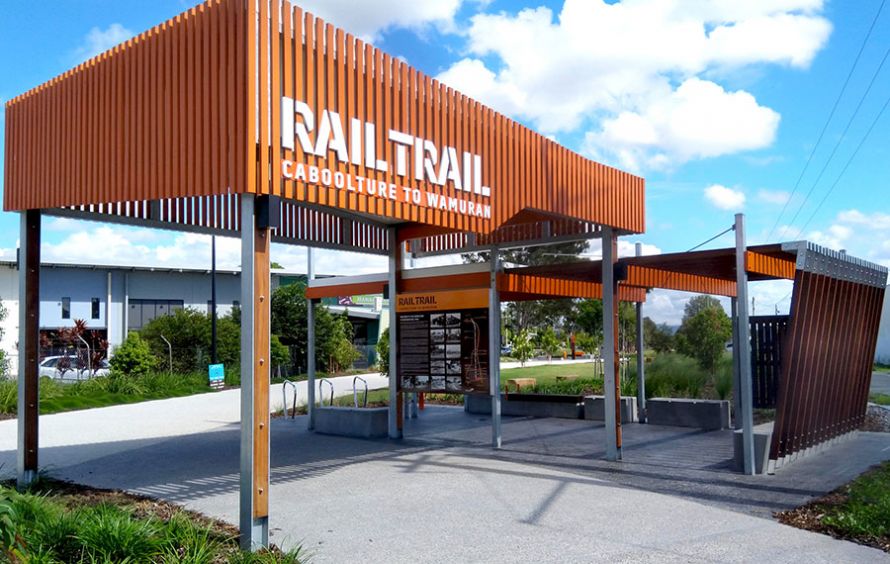 Image credit: Moreton Bay Regional Council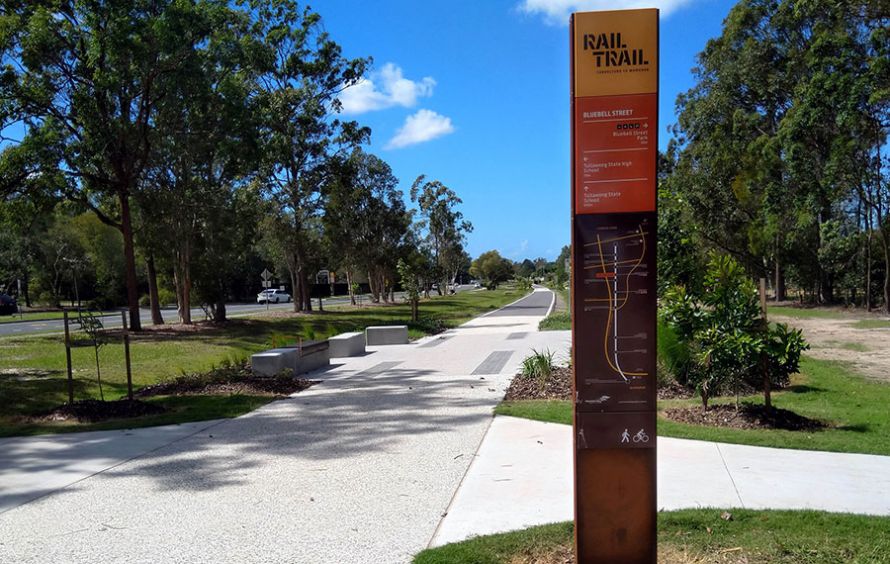 Image credit: Moreton Bay Regional Council
The Caboolture to Wamuran Rail Trail reimagines the use of a former railway line into an important active corridor link in an emerging growth corridor to the west of Caboolture. This project exemplifies patience (good things come to those that wait), imagination and making a commitment that went beyond what was strictly necessary, builds a really useable local asset which portrays a new narrative for this community – both in terms of its identity and image.
The Jury commends Moreton Bay Regional Council on the high-quality material outcomes achieved, the clarity and simplicity in identify and wayfinding and encourages council to maintain an ongoing commitment in achieving design excellence when delivering community infrastructure.
Policy Category
Project: Sunshine Coast Design Strategy and Book
Location: Sunshine Coast
Team: Sunshine Coast Regional Council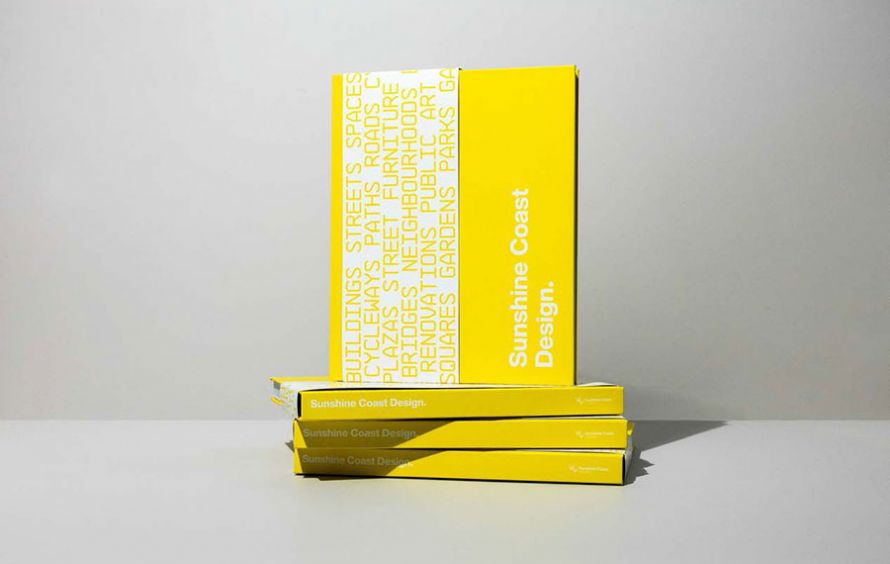 Image credit: Sunshine Coast Regional Council
The Sunshine Coast Design Strategy and book has been delivered by Sunshine Coast Regional Council to educate, inspire and raise awareness of the value of good design and how to achieve place-based design to help protect and enhance all that is loved on the Sunshine Coast.
Of significance, the book and strategy is underpinned by Sunshine Coast Councils' vision to be Australia's most sustainable region. The Jury congratulate Council's commitment to celebrate and promote good Sunshine Coast design in all areas of Council and their community to support sustainable urban development.
The Jury recognised the strong leadership shown in delivering this initiative, including supporting events and activities, to establish a baseline expectation and catalyse debate about what good design means and why it matters to the Sunshine Coast.
The Jury encourages councils and land management authorities to consider the role of overarching design strategies in elevating the importance of design as a recognised corporate strategy by providing an overarching vision for design in organisations and communities that encompasses various policies and guidelines while profiling the work of local design practitioners.
Other recognised projects
Additionally, the jury recognised the following projects for their vision and potential:
In recognition of a number of emerging projects:
Victoria Park Vision – a transformational project for the City of Brisbane that reimagines the current Victoria Park golf links into an amazing new public parkland that is uniquely Brisbane. The Victoria Park Vision is the first phase in the design process for the site's evolution over the next 50 years.
Townsville University Hospital Master Plan – aims to set a new benchmark in health and education precinct master planning by embracing the complexity of the site and its future health, knowledge and innovation precinct functions. By reimagining the role of a health master plan, the Townsville University Hospital Master Plan makes an important contribution to better design by looking 'beyond the campus' and seeking to stich a large institutional facility into the surrounding urban fabric.
Cherbourg Cultural Pathway – is a great example of small-scale urban design in a very practical setting. Enriching the place quality of a vital infrastructure connection, whilst at the same time increasing safety and encouraging cultural tourism, the potential impact of this project on its community is significant and that interventions of this nature are to be encouraged and enabled – they are powerful agents of change to the daily quality of life to more remote local communities. The Jury looks forward to seeing the realisation of this project that will undoubtedly boost community pride and sense of accomplishment.
In delivering or promoting good design in local communities:
Traditional Housing: Alterations and Extensions Design Guide – encouraging homeowners and design professionals to alter or extend traditional character homes in ways that enhance and contribute to neighbourhood and streetscape character. The guide supports Brisbane City Council's plan to ensure quality design is delivered across the city and reflects Brisbane's unique character and identity.
Warril Parkland – delivering an active and healthy, nature-based parkland as part of the Oxley Creek Transformation Master Plan which was recognised as part of the 2019 Ministers Award for Urban Design. Warril Parkland is the latest project to deliver on the vision to transform Oxley Creek into a world-class green lifestyle and leisure destination for Brisbane.
Aerodrome Road intersection – an exemplar collaborative project that demonstrates that good design and critical thinking can create new opportunities in the delivery of road infrastructure. Through design-led thinking, the project team have gone beyond the brief to deliver significant new public space that celebrates the Sunshine Coast's subtropical landscape and lifestyle.
City Botanic Gardens – Hill's Avenue Boardwalk – a sensitive boardwalk insertion that negotiates existing historic fig trees within Brisbane's City Botanic Gardens to support greater accessibility and access to this significant heritage garden.
The jury encourages entrants to consider resubmitting unbuilt projects in forward years, when they are substantially complete.
2020 Awards and commendations
Award
Cairns Performing Arts Precinct - CA Architects, Cox Architecture and Andrew Prowse Landscape Architect with Cairns Regional Council
Howard Smith Wharves - HSW Nominees, Urbis and Woods Bagot
Commendations
The Spit Master Plan - Deicke Richards and John Gaskell Planning Consultants, with Aspect Studios and Department of State Development, Manufacturing, Infrastructure and Planning, Gold Coast Waterways Authority and City of Gold Coast
900 Ann Street - John Wardle Architects, Lat 27 and Penfold Projects with Consolidated Properties and Anglican Church Archdiocese
2019 Awards and commendations
Award
Main Street, Barcaldine - m3architecture and Brian Hooper Architect (architects in association) with Barcaldine Regional Council
Commendations
Oxley Creek Transformation Master Plan - Lat27 and Oxley Creek Transformation Pty Ltd in association with DesignFlow, Hydrobiology, Jacobs and Deloitte
Joint Projects: Gold Coast Building Height Study—an approach to city image together with Gold Coast Urban Ground Project - City of Gold Coast with Urbis and City of Gold Coast with Archipelago
2018 Awards and commendations
Awards
Fish Lane, South Brisbane- Aria Property Group with Brisbane City Council
Parklands, Gold Coast- AAA (Arkhefield, ARM and Archipelago) and Lat27 with Grocon
Commendations
Big Plans for Small Creek: Small Creek Naturalisation Ipswich Landscapology and Bligh Tanner with Ipswich City Council
St Lucia Campus Master Plan St Lucia, Brisbane Urbis with University of Queensland
Rockhampton Riverside and CBD Redevelopment Rockhampton Urbis with Rockhampton City Council
2017 Awards and commendations
Awards
Beenleigh Town Square Project, Logan- Logan City Council, AECOM, MRCagney and Wilson Architects
Commendations
Brisbane Showgrounds – Public Realm Overlay, Brisbane- RNA and Lendlease with Lat27
Kwong Sang Walk Laneway Creation, Toowoomba- Toowoomba Regional Council
Gold Coast Landscape Character Study, Gold Coast - City of Gold Coast with Cardno, Catherine Brouwer and Michael Aird
Last updated:

22 June 2021