2022 Minister's Award for Urban Design
Date: 10/06/2023
In 2022, 26 nominations were received for the Minister's Award for Urban Design and two new subcategories, the Malcolm Middleton Award for Liveable Design and the Movement and Place Award in partnership with the Department of Transport and Main Roads. Ranging from city-shaping policy thinking to fine-grain projects at a local or neighbourhood level, the nominations reflect a state-wide commitment to good design outcomes within the built environment.
This year the juries have recommended 3 Awards and 4 commendations for projects that:
challenge the status quo
demonstrate leadership and design excellence
will leave lasting, sustainable legacies for the broader community, albeit at varying scales.
Winner
Award
Project: QUT Campus to Country
Location: Brisbane
Team: BVN with Queensland University of Technology
The jury congratulates QUT and its consultants for this exemplary work of engagement with Aboriginal people and places. The project is considered an important benchmark in its quality, vision and clarity in an emerging area of design practice.
The consultants and QUT have demonstrated how connection to and engagement with Aboriginal culture and knowledge can be deepened through the design of places, in this instance showing this knowledge can be embedded in daily campus experience. The jury was particularly impressed by the clear translation of Aboriginal culture and knowledge into tangible design strategies for campus places, demonstrating clear linkages between readings of Country and urban design, and importantly placing resultant future interventions within a holistic spatial framework.
The jury applauds the clarity and quality of presentation, anticipating strong influence in the shaping of the QUT campuses in the future as the design principles are realised in physical works over-time.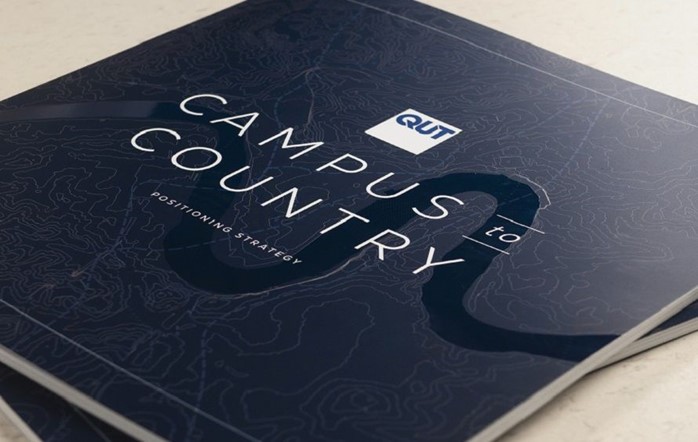 Image Credit: Nikolas Strugar
Commendation
Built Category
Project: Surgical Treatment and Rehabilitation Services (STARS) and Public Realm
Location: Herston, Brisbane
Team: Hassell, BESIX Watpac with Australian Unity and Metro North Health
The development of the public realm at STARS focuses on the creation of places for people and has provided a unique canvas that harnesses a level of intimacy rarely seen in a public space that seeks to traverse such a complex site. STARS incorporates a variety of landscaped spaces over six levels of the building and adjacent public realm. The design successfully capitalises on the dynamic topography of the site - incorporating an abundant supply of lush restorative landscape while preserving strategic viewsheds to heritage buildings and the city skyline.
The Jury commended Hassell and Australian Unity for this successful design outcome, for its restraint in working with the natural site features, for its contribution to the Herston Quarter public realm, and for championing a collaborative design review process to ensure a superior public realm offering central to both the STARS project and future development opportunities within the broader precinct.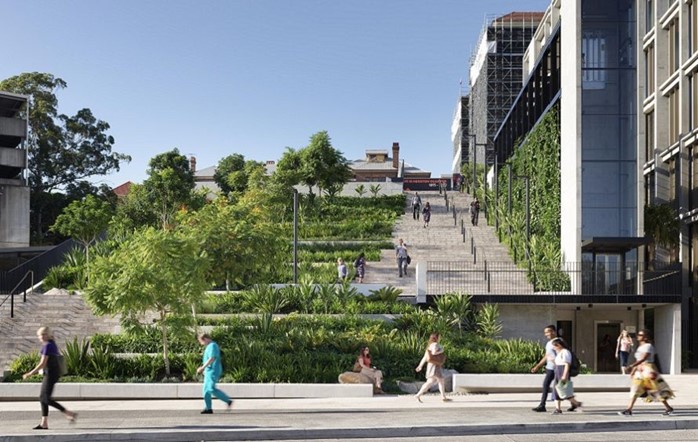 Image credit: Scott Burrows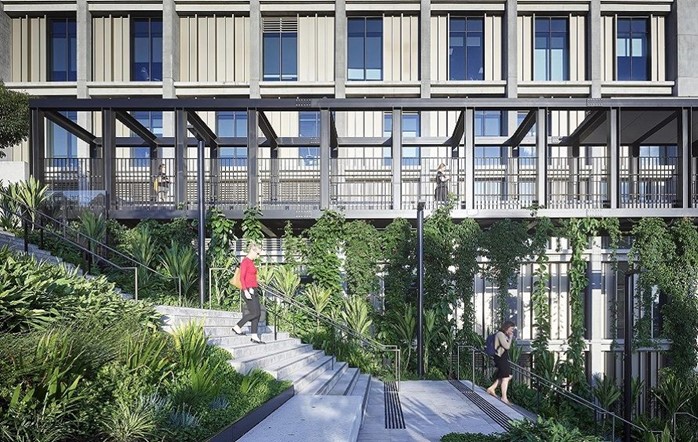 Image credit: Scott Burrows
Commendation
Built Category
Project: Fish Lane Town Square
Location: South Brisbane
Team: RPS with Richards & Spence, Bland 2 Brilliant, Greenstock, Michael Bale & Associates, Shape Australia & FPOV with Aria Property Group
The Fish Lane Town Square is an exquisitely executed new public square built under an existing railway overpass in South Brisbane, which illustrates how underutilized space can be repurposed for the provision of high-quality public realm.
The project team should be congratulated for overcoming extensive site constraints to provide a new and important link in the walkability and open space network in South Brisbane, and for adding a valuable pocket of green space in an otherwise harsh built environment.
The materials, public art, subtropical planting palettes and other detail-design elements have been carefully chosen and are perfectly suited for the location. The design is people-centred and provides a well-used new activity centre and pedestrian link for the community and local businesses to use and enjoy.
The project is also an excellent example of collaborative delivery led by a private developer in consultation with multiple government stakeholders and illustrate how alternative design-led thinking around public spaces in and around major transport infrastructure elements can deliver excellent outcomes for the community.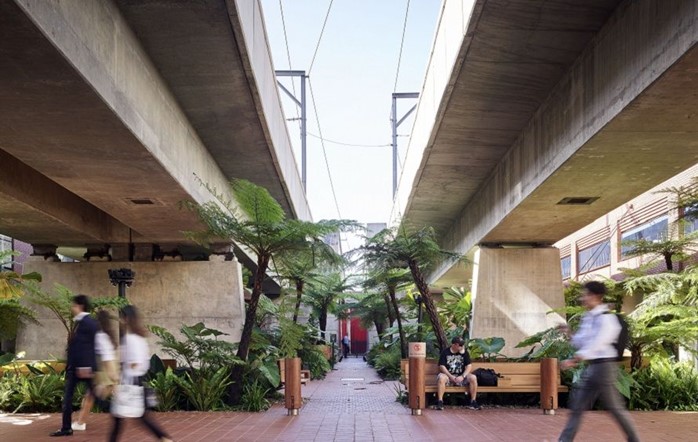 Image Credit: Scott Burrows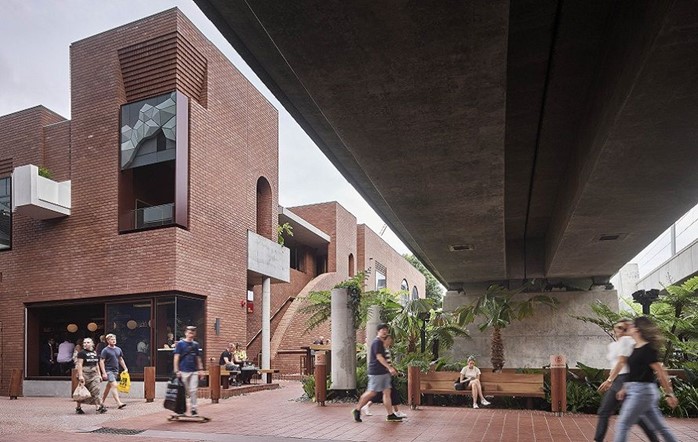 Image Credit: Scott Burrows
Additionally, the jury recognised the following projects for their vision:
Bulcock Street, Caloundra – The jury recognised the sustained investment by Sunshine Coast Council over several construction phases to key placemaking challenges of the street, including a succession strategy for invasive but much-loved trees and accommodating competing uses.
The project has successfully provided ample street subtropical planting, created a variety of successful shaded dwell spaces, and adjusted the street section so that the street edges and centre can work in concert during markets and events. These add up to a positive physical and functional revitalisation of the street.
Poona Community Infrastructure Plan – A successful tool that will provide the Fraser Coast Regional Council and its Community with a positive narrative to inform the development of robust capital and operational asset management for years to come. Underpinned by an extensive community engagement process, the final plan demonstrated a strong sense of community ownership, setting the standard for community engagement practice in small communities across Queensland.
Gladstone East Shores – Auckland Point – Gladstone Ports Corporation should be congratulated for continuing to deliver on their vision of the future of Gladstone's waterfront in a large-scale public parkland via the re-purposing of former industrial land into public realm and large-scale open space for the benefit of the community, and to drive tourism opportunities for the city.
The Gladstone East Shores waterfront parkland is a well-executed extension of the existing parklands which integrate and re-use existing elements from the site's industrial past to provide a contextually appropriate design response for the site.
The project team should also be congratulated for utilizing innovative wicking bed systems for sustainable water management and irrigation on site to assist in the long-term viability and resilience of the precinct in a warming climate.
The jury encourages entrants to consider resubmitting unbuilt projects in forward years, when they are substantially complete.
Movement and Place Award
Project: Fish Lane Town Square
Location: South Brisbane
Team: RPS with Richards & Spence, Bland 2 Brilliant, Greenstock, Michael Bale & Associates, Shape Australia & FPOV with Aria Property Group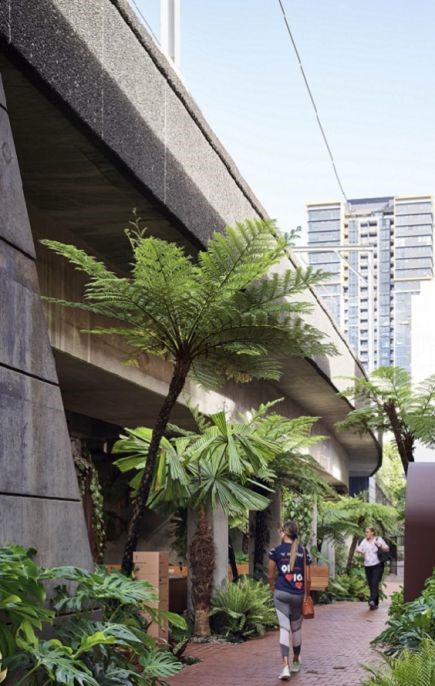 Image Credit: Scott Burrows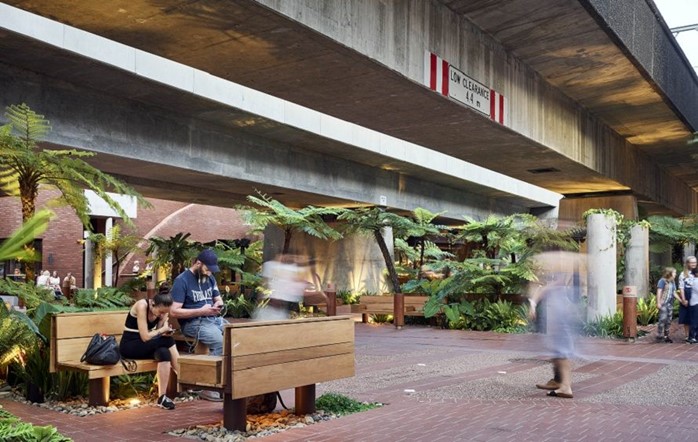 Image Credit: Scott Burrows
Movement and Place Commendation
Project: Logan Healthy Street
Location: Loganlea Road, Meadowbrook
Team: Logan City Council with PMP Urbanists
The taming of large arterial roads is often a difficult challenge in a peri-urban environment comprising hot streets and fast cars. This project seeks to balance the competing priorities of the big morning and afternoon commutes along our major arterial road networks and the simple desire of local residents and key workers to safely cross a road in order to access public transport and other lifestyle and amenity offerings closer to home.
The Jury commends Logan City Council for pursuing a healthy street agenda contained within an evolving health precinct of regional significance whilst recognising the needs of movement and place. The jury noted that the health of Meadowbrook and the Meadowbrook community has underpinned both the master plan and implementation plan processes that have in turn informed the first of hopefully many public realm projects to be delivered by Logan City Council in partnership with the public and private sectors.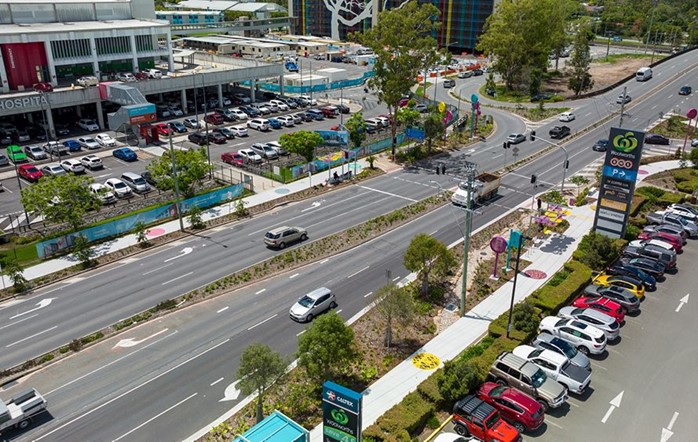 Image Credit: Logan City Council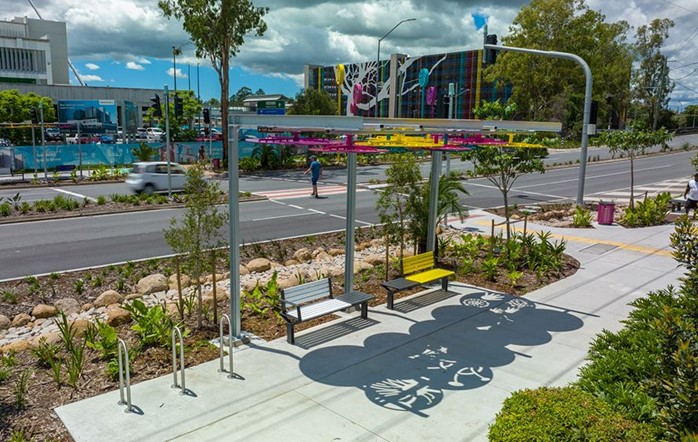 Image Credit: Logan City Council
Malcolm Middleton Award for Outstanding Liveable Design
A liveable house is easy to use, it supports all abilities, prioritises the needs of children and older people and by nature, is accessible. The lack of accessible housing can have an adverse impact on all of us, no matter where we are on life's journey. As we grow up and grow old, our homes must meet our ever-changing wants and needs.
The inaugural Jury for the Malcolm Middleton Award for Outstanding Liveable Design unanimously agreed on a single winner and two worthy commendations in recognition of the diversity and high quality of all the submitted projects. These three schemes mirror a growing demand for better housing choice - something old, new and blue-ribbon.
Common to all, a unanimous "I'd live there" response from the Jury members.
Award
Project: Alondra Residences by BVN
Location: Union Street, Nundah, Brisbane
Team: BVN with Lutheran Services
Australians enjoy one of the highest life expectancies in the world. Providing appropriate accommodation and care environments for our growing generation of older people has become a critical social need. Located in a middle ring suburb of Brisbane, this compact development delivered by the Lutheran Church of Australia carefully curates a series of public, private and communal spaces to deliver health-giving connections to subtropical nature and the outdoors, designed to a Liveable Housing gold standard.
The Jury noted that the fifty-two finely crafted homes for the over sixty-five's include a number of exemplary design approaches that could be readily applied across the private, owner occupied and non-for-profit retirement and care sectors. The project highlights the substantial contribution great design can make to addressing issues of quality and safety in care settings highlighted in the recent Aged Care Royal Commission.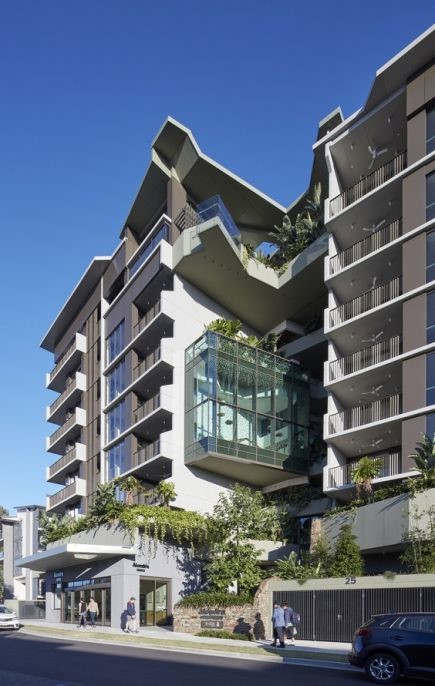 Image Credit: Christopher Frederick Jones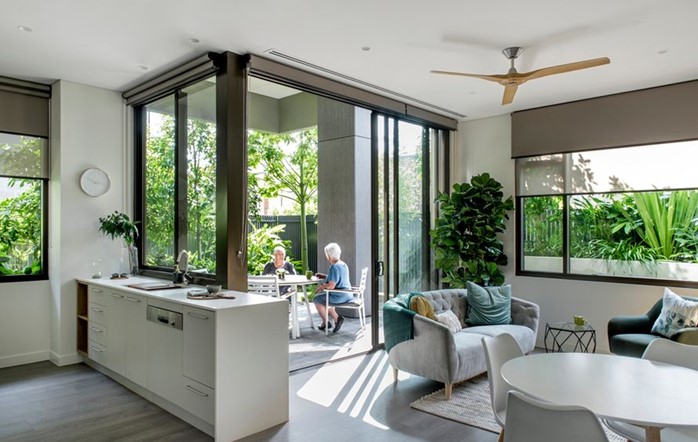 Image Credit: Christopher Frederick Jones
Malcolm Middleton Award for Outstanding Liveable Design
Commendation
Project: Anne St Garden Villa by Anna O'Gorman Architect
Location: Anne Street, Southport
Team: Anna O'Gorman Architects and Lat27 with Department of Communities, Housing and Digital Economy
This new social housing project by the Department of Communities, Housing and the Digital Economy challenges a historical misconception that public housing and small scale multi-residential developments cannot find a place to call home in our established low-density neighbourhoods.
Seven one- and two-bedroom dwellings with Liveable Housing gold and silver standards are clustered around a central and accessible courtyard space where residents and visitors can meet. Access to natural light and ventilation, green public and private spaces of different scales is a key aspect of this deceptively simple scheme.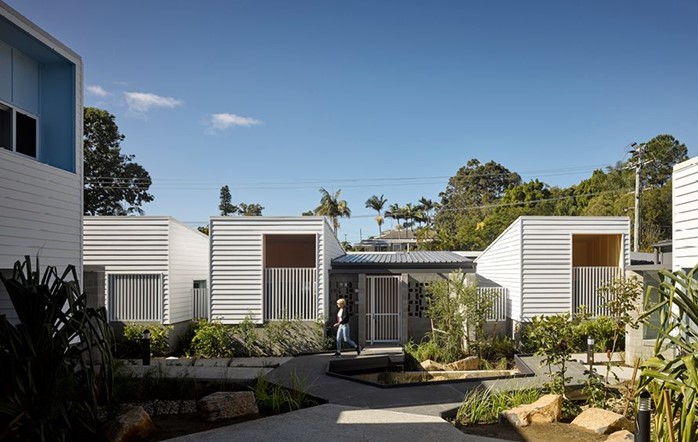 Image Credit: Christopher Frederick Jones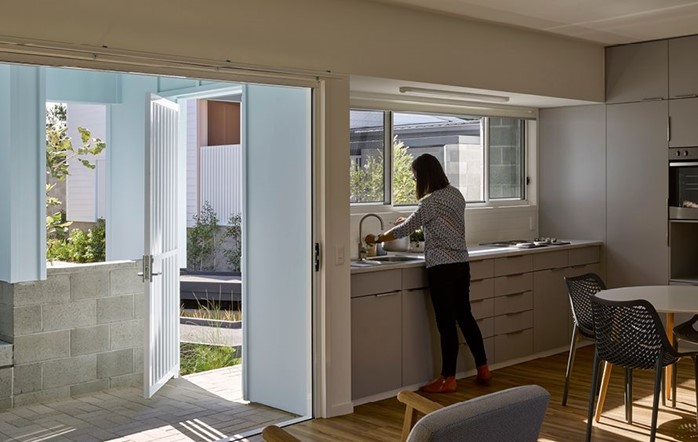 Image Credit: Christopher Frederick Jones
Malcolm Middleton Award for Outstanding Liveable Design
Commendation
Project: Bokarina Terrace by Hollindale Mainwaring Architecture
Location: Bokarina Terraces Stage 3, Bokarina Beach
Team: Hollindale Mainwaring Architecture with Stockland
Bokarina Terraces by Stockland is a boutique high-quality development located on the Sunshine Coast. This forty-four terrace development includes seven different product types, from Fonzie flats to dual occupancy town homes that cater to a broad demographic including families with young children together with inter-generational living for those wishing to downsize and age in place.
The Jury was encouraged to see a number of the typologies being at a Liveable Housing silver standard, demonstrating that the development industry can deliver exemplar designs that are both climatically responsive, adaptive and accessible. The jury encourages the further application of the Liveable Housing standards to future developments.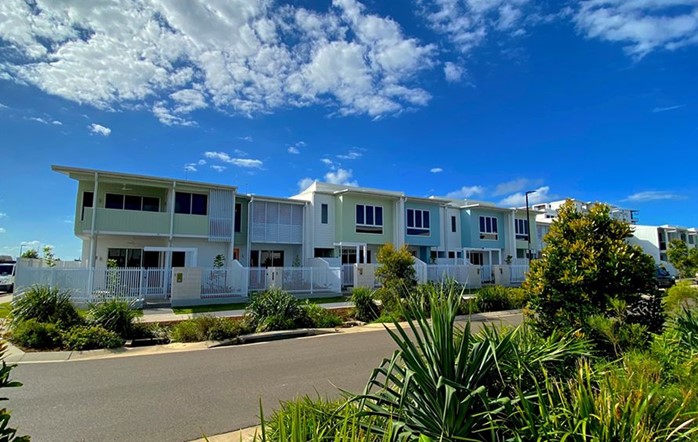 Image Credit: Hollindale Mainwaring Architecture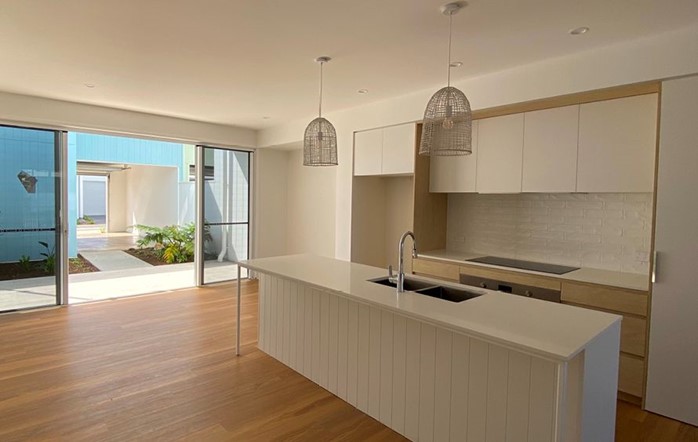 Image Credit: Hollindale Mainwaring Architecture
2021 Awards and commendations
Award
Queensland Country Bank Stadium - Cox Architecture in collaboration with Counterpoint Architecture and Stadiums Queensland
Joints Projects: Slacks Creek Green Link together with Dennis Road Shared Pathway and Murrajong Streetscape Works - Logan City Council with AECOM and Logan City Council
Urban Canopy Mapping - City of Gold Coast in collaboration with Arup and Dr Lyndall Plant
Tropical Design Studio: Strategic concept masterplans in northern Queensland country towns - Tropical Urbanism and Design Lab (TUD Lab) at James Cook University (JCU) with CA Architects, LA3 Landscape Architecture and TPG Architects with Tablelands Regional Council, Cassowary Coast Regional Council and Hinchinbrook Shire Council.
Commendations
University of Queensland Gatton Campus Entry and Heart - : Lat27 with the University of Queensland
Caboolture to Wamuran Rail Trail - Wolter Consulting Group with Moreton Bay Regional Council
Sunshine Coast Design Strategy and Book – Sunshine Coast Regional Council.
2020 Awards and commendations
Award
Cairns Performing Arts Precinct - CA Architects, Cox Architecture and Andrew Prowse Landscape Architect with Cairns Regional Council
Howard Smith Wharves - HSW Nominees, Urbis and Woods Bagot.
Commendations
The Spit Master Plan - Deicke Richards and John Gaskell Planning Consultants, with Aspect Studios and Department of State Development, Manufacturing, Infrastructure and Planning, Gold Coast Waterways Authority and City of Gold Coast
900 Ann Street - John Wardle Architects, Lat 27 and Penfold Projects with Consolidated Properties and Anglican Church Archdiocese.
2019 Awards and commendations
Award
Main Street, Barcaldine - m3architecture and Brian Hooper Architect (architects in association) with Barcaldine Regional Council
Commendations
Oxley Creek Transformation Master Plan - Lat27 and Oxley Creek Transformation Pty Ltd in association with DesignFlow, Hydrobiology, Jacobs and Deloitte
Joint Projects: Gold Coast Building Height Study—an approach to city image together with Gold Coast Urban Ground Project - City of Gold Coast with Urbis and City of Gold Coast with Archipelago.
2018 Awards and commendations
Awards
Fish Lane, South Brisbane- Aria Property Group with Brisbane City Council
Parklands, Gold Coast- AAA (Arkhefield, ARM and Archipelago) and Lat27 with Grocon.
Commendations
Big Plans for Small Creek: Small Creek Naturalisation Ipswich Landscapology and Bligh Tanner with Ipswich City Council
St Lucia Campus Master Plan St Lucia, Brisbane Urbis with University of Queensland
Rockhampton Riverside and CBD Redevelopment Rockhampton Urbis with Rockhampton City Council.
2017 Awards and commendations
Awards
Beenleigh Town Square Project, Logan- Logan City Council, AECOM, MRCagney and Wilson Architects
Commendations
Brisbane Showgrounds – Public Realm Overlay, Brisbane- RNA and Lendlease with Lat27
Kwong Sang Walk Laneway Creation, Toowoomba- Toowoomba Regional Council
Gold Coast Landscape Character Study, Gold Coast - City of Gold Coast with Cardno, Catherine Brouwer and Michael Aird.
Last updated:

5 April 2023