Queensland Renewable Energy Zones
Date: 24/07/2021
The Queensland Government has committed $145 million to establish three Queensland renewable energy zones (QREZ) – the Northern, Central, and Southern QREZ.
In these areas, we will:
undertake strategic network investments
streamline the development of new renewable energy projects
work to match new and existing industrial energy demand with our cheap, clean renewable energy.
The development of QREZ aims to bring together coordinated investment in transmission and generation infrastructure in a way that supports Queensland industries and benefits local communities.
The Northern, Central and Southern QREZ shown below, cover areas identified by the Australian Energy Market Operator as having good quality renewable resources and other characteristics suitable for renewable energy development.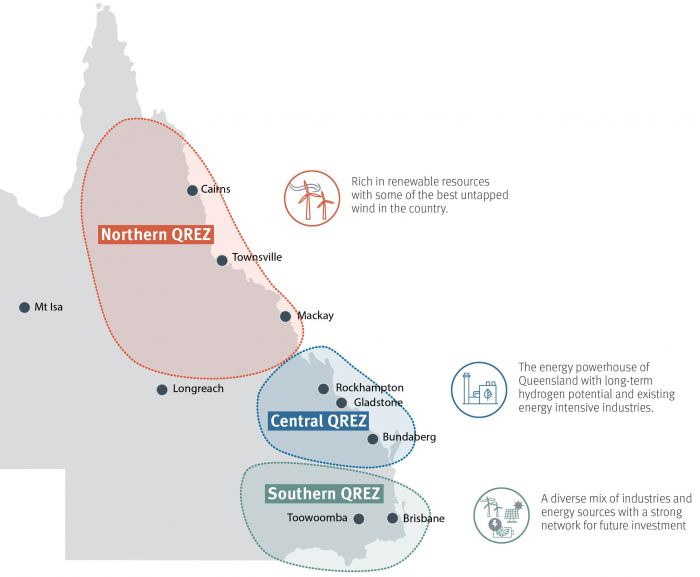 Long-term development of these zones will be complex and needs to support existing industries and emerging opportunities like the hydrogen economy. Coordinated development will support reliable, secure and affordable energy supply as we reach our target for 50 per cent renewable energy by 2030.
As a first step, the Queensland Government is working with Powerlink Queensland – our state-owned transmission company – to identify strategic investments that will unlock renewable energy potential and lower the cost of connecting new projects.
These strategic investments will be aligned to areas of high investor interest identified through the QREZ registration of interest which was finalised in late 2020. Through this process, 192 projects registered their interest in participating in QREZ, representing a strong pipeline of renewable projects in Queensland.
First stage of developing the Northern QREZ
The Queensland Government has announced the first stage of developing the Northern QREZ with an investment of $40 million for network upgrades to unlock up to 500 megawatts (MW) of renewable energy potential in Far North Queensland.
This investment will upgrade transmission lines between Cairns and Townsville to support new projects in the north, tapping into world-class wind resources in the region and improving the security of energy supply to Cairns.
Far North Queensland has some of the strongest wind and solar resources in Australia. In particular, wind is often blowing while solar farms are ramping down or not generating, helping to balance the system.
The first project to be supported is Neoen Australia's 157 MW Kaban Green Power Hub wind farm worth over $370 million. The construction of the wind farm and transmission infrastructure is expected to support 250 near-term construction jobs, with hundreds of additional jobs in the long-term as the Northern QREZ is built to full capacity.
The Kaban wind farm is backed by an offtake agreement with CleanCo Queensland to buy wind energy to supply some of Queensland's largest businesses with reliable, globally competitive, low emissions energy.
The Kaban wind farm has already been engaging with local communities about their proposed development, with early works commencing in May 2021.
Next steps
Further analysis is underway on the first stages of developing the Central and Southern QREZ to support cleaner, cheaper and reliable energy for Queensland consumers.
Throughout 2021 we will be engaging further with stakeholders:
The Queensland Government will engage with communities, industry and other stakeholders on QREZ implementation with a focus on maximising local benefits.
Powerlink will engage with landowners and other stakeholders regarding the announced upgrades to the existing transmission infrastructure.
In addition, project proponents like Neoen are engaging directly with local communities about their renewable energy projects.
Future updates
Check this website for future updates on QREZ and how you can have your say.
More information
Last updated:

16 June 2021