North and Far North Queensland Renewable Energy Zones
Date: 23/09/2023
The North and Far North Queensland region spans from Cairns in the north to Mackay in the south, and west to Hughenden. The region offers rich renewable energy resources, with the potential to help the state reduce its emissions and continue to protect our natural environment. The CopperString 2032 transmission project is set to open up the Hughenden area for new renewable energy development and connect the North West Minerals Province to the energy grid.
Renewable Energy Zones (REZs) help to coordinate development in areas of high renewable potential, maximising benefits for regional communities. Working with Powerlink, we have identified three potential REZs in the North and Far North Queensland region.
There is an In-flight REZ underway and two potential future REZs to be developed in North and Far North Queensland.
Up to 5,100 megawatts of expected new renewable generation will be installed in REZs. Projects within these REZs are expected to be connected incrementally, meaning workers will have sustainable employment opportunities across multiple projects, over a number of years.
Read more on North and Far North Queensland Renewable Energy Zones in the draft 2023 Queensland Renewable Energy Zone Roadmap.
Community feedback will inform how Queensland REZs are developed and will be published in the final 2023 REZ Roadmap. Email your feedback as a submission to REZRoadmap@epw.qld.gov.au by Friday 22 September 2023.
There will be multiple opportunities in the future for local communities to provide feedback on specific REZs.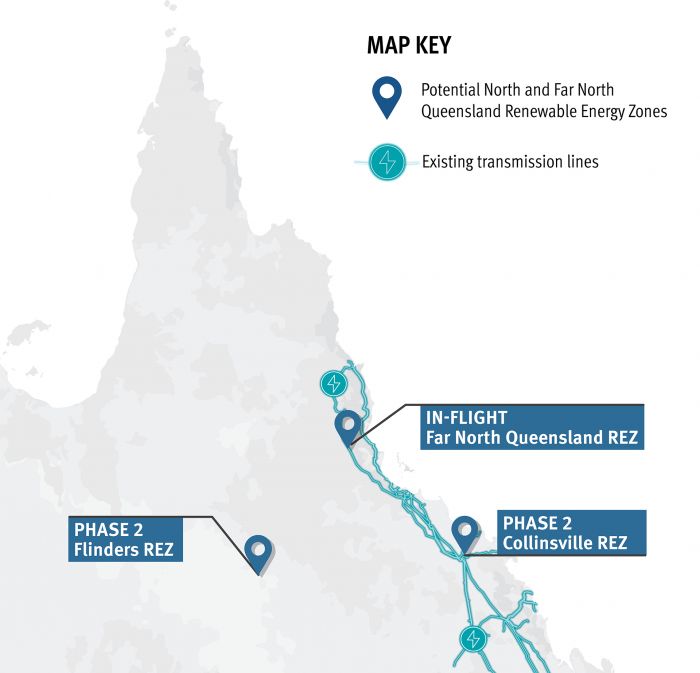 In-flight REZs
In-flight REZs are renewable energy developments that Powerlink are already progressing under the existing National Electricity Rules and may be converted to a declared REZ in the future. These In-flight REZs will offer important insights that will inform future REZ development.
There is one In-flight REZ currently being developed by Powerlink in Far North and North Queensland:
More information
Stay up to date
Subscribe for updates about the progress of Queensland's Renewable Energy Zones.
Last updated:

10 July 2023