Southern Queensland Renewable Energy Zones
Date: 29/11/2023
The Southern Queensland region spans from Maryborough in the north to Stanthorpe in the south, and west to Chinchilla. Southern Queensland is renowned for its agricultural production and strong primary industries, including food and fibre production. The region is also home to abundant resources including coal seam gas, petroleum and minerals, and in recent years has seen an increase in large-scale wind and solar farms.
Renewable Energy Zones (REZs) help to coordinate development in areas of high renewable potential, maximising benefits for regional communities. Working with Powerlink, we have identified five potential REZs in the Southern Queensland region.
There are two In-flight REZs underway (see below) and another three potential future REZs in Southern Queensland. Up to 12,200 megawatts of expected new renewable generation will be installed in REZs. Projects within these REZs are expected to be connected incrementally, meaning workers will have sustainable employment opportunities across multiple projects, over a number of years.
Read more on Southern Queensland Renewable Energy Zones in the draft 2023 Queensland Renewable Energy Zone Roadmap (PDF, 6.1MB).
Consultation on the draft 2023 Queensland Renewable Energy Zone Roadmap has closed.
Should you wish to provide comment towards the ongoing development of Queensland's Renewable Energy Transformation please email energyandjobsplan@epw.qld.gov.au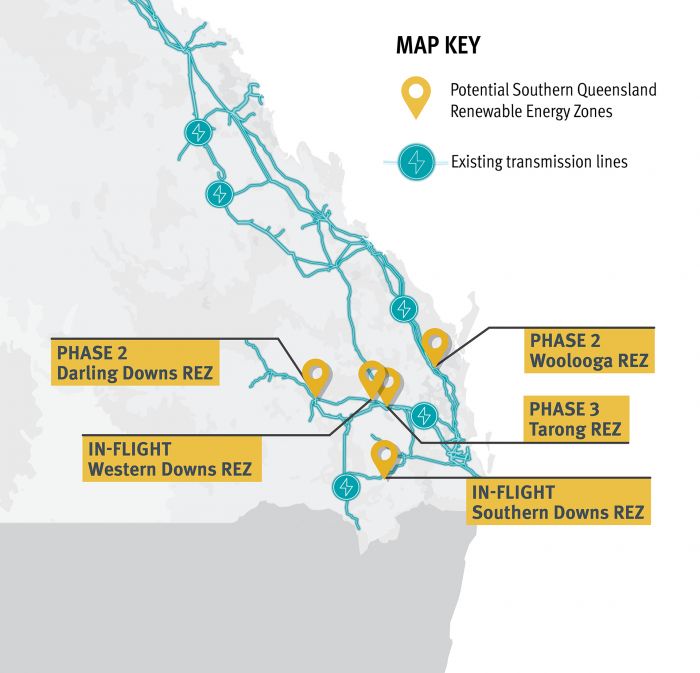 In-flight REZs
In-flight REZs are renewable energy developments that Powerlink are already progressing under the existing National Electricity Rules with some degree of coordination and may be converted to a declared REZ in the future. These In-flight REZs will offer important insights that will inform future REZ development.
There are two In-flight REZs currently being developed by Powerlink in Southern Queensland:
More information
Stay up to date
Subscribe for updates about the progress of Queensland's Renewable Energy Zones.
Last updated:

14 November 2023