Women in construction
Date: 16/01/2021
Queensland has a $46 billion building and construction industry.
While the industry employs about 240,000 people across the state, only 2.4 percent of these are women. Electricians, joiners and earthmoving plant operators, as well as concreters and formworkers have some of the lowest participation rates of women in the industry.
Civil engineering draftspersons and technicians, fencers and plasterers have higher levels of participation. However, even among building and engineering technicians, which has the highest percentage of women workers, more than three quarters of the workforce are men.
The Queensland Government is leading the way to help boost women's participation in the building and construction industry, particularly in frontline construction roles.
We actively encourage women to join the building and construction industry and build careers in a range of professional services, trades, administration and supply chain roles.
Our own procurement management and contract management team, QBuild, is already well above the state average in employing women and is making great strides toward lifting this ratio even higher.
In 2019, the Queensland Government's $13 billion infrastructure spend supported 40,500 jobs across the state and of this, our social housing capital works program supported 1,400 jobs.
By boosting women's participation in the industry we are contributing to the Advancing Queensland Priority of creating jobs in a strong economy.
Making a difference in Cannon Hill
Right now, we're building 20 new social housing units in Cannon Hill, with a strong focus on a diverse workforce. This project, being managed through QBuild, will be looking for the best ways to build women's participation in construction and to support retention of women apprentices and tradies.
What we learn from this project will help build greater diversity on future QBuild, Queensland Government and private industry projects.
The project has already had an all-women fencing team complete the perimeter fencing and, QBuild's own women apprentices are logging hours on site.
This includes a female electrical apprentice who is bucking industry trends.
While some trades are still not attracting women, in 2019/20 there were 38 women signed up to become apprentice carpenters, and another 15 apprentice plumbers. Of the painting and decorating apprentices from the same year, almost 10 per cent are women.
The project in Cannon Hill will also host Try a Trade events to show school students the trade options available to them and encourage them to be part of the next generation of women tradies.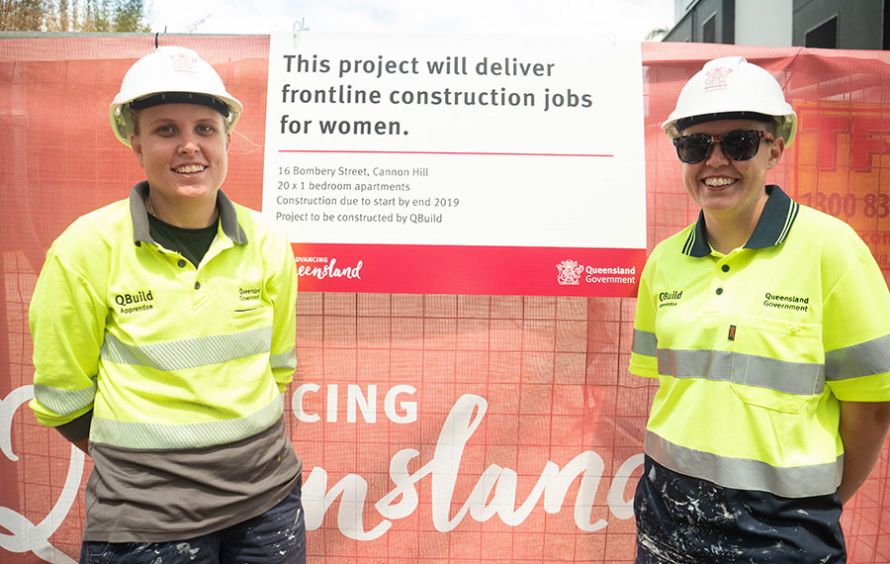 Last updated:

4 September 2020