Buy Queensland Supplier Award previous winners
Date: 03/12/2023
We recognise the valuable contribution of suppliers in a variety of ways, including the Buy Queensland Supplier Awards. These awards recognise businesses that supply to the Queensland Government and are contributing to a stronger and better Queensland.
2022 Buy Queensland Supplier Award recipients
On 5 October 2022, the winners of the 2022 Buy Queensland Supplier Awards were announced at a ceremony in Brisbane. A total of six businesses were recognised across four categories:
Putting Queenslanders First – awarded to a business that has achieved outstanding local benefits by creating quality jobs for Queenslanders and supporting the local community when supplying directly to the Queensland Government
Diversity in Supply Chains – awarded to a business, that has through their organisation's supply chains and other sourcing activities, demonstrated support for social outcomes and enhanced the lives of Queenslanders by supporting small and medium sized business, social enterprises, Aboriginal businesses and/or Torres Strait Islander businesses, disability enterprises, or actions to target and end domestic and family violence.
Delivering for Queensland – awarded to a business that has delivered outstanding outcomes for the community through innovation, disaster response and/or environmental initiatives.
The Minister's Buy Queensland Award - awarded recognising the outstanding contributions of a nominee who is making an impact on the local and/or regional community.
Learn more about our 2022 award winners by visiting our Buy Queensland shout-outs.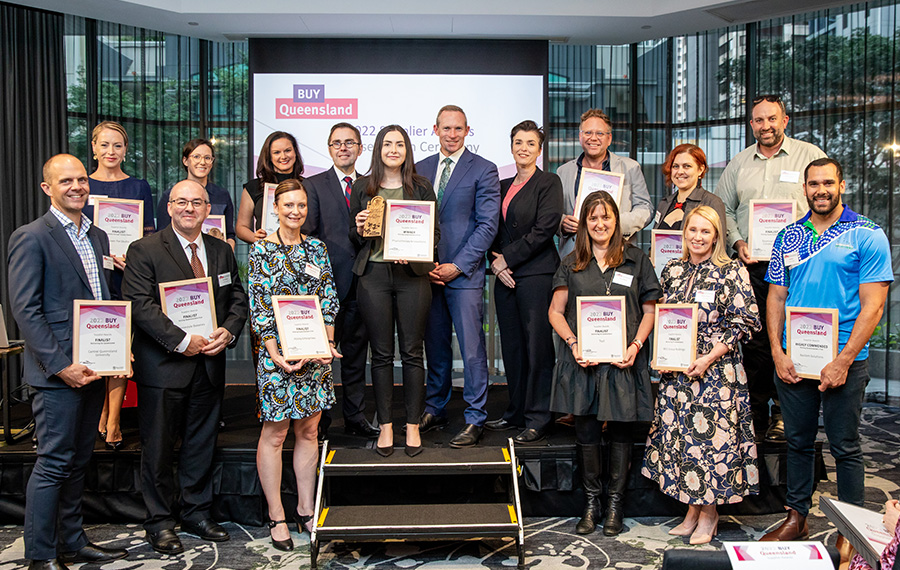 Winners at the 2022 Buy Queensland Supplier Awards
2022 Award winners
Award category
Award recipient
Putting Queenslanders First Award
Winner
Physiotherapy Innovations
Highly commended
Baidam Solutions
Diversity through Supply Chains Award
Winner
Iscariot Media
Highly commended
Marrawah Law
Delivering for Queensland Award
Winner
FloodMapp
Highly commended
Total Uniform Solutions
Minister's Buy Queensland Award
Winner
Physiotherapy Innovations
Highly commended
Marrawah Law
2022 Awards ceremony video
And these awards are all about you, the individuals and the organisations that help grow strong local economy by supplying goods and services to the Queensland government. Whether you're based in the city, perhaps in the regions, whether you're big or small, we're here this afternoon to acknowledge your contribution to the positive economic, social and environmental outcomes for Queensland.
I particularly want to acknowledge the most important people who are here today, which is the people who supply the Queensland government with fantastic products and services, and who also do great things for the community in which they live. And, this award is very much a celebration about you.
So, we're very proud and very happy to have won both awards. It was definitely a big shock and it makes us feel very special, that all of our hard work is recognised, basically.
It's really actually hard to describe how much this means to me and the whole team at Floodmapp to be recognised like this. And yeah, just really, really proud, and really honoured to receive the award.
I'm extremely proud tonight to be representing Iscariot, representing the team, and yeah, just really proud of the work we do.
The Queensland government spends somewhere in the order of $20 billion each year on goods and services. Buy Queensland is about making sure that money is spent with Queensland businesses as much as is possible.
I think Buy Queensland means for government, that the enormous investment that we are entrusted with by Queensland taxpayers, can be not only employed to make sure we've got the goods and services we need, but we can use that investment to drive some real benefits beyond that. Economic benefits, social benefits, environmental benefits.
Three years ago we were four permanent employees. We are now 17.
So, being a supplier to the local government has helped us immensely. So, within our local community, we're able to offer more jobs.
It's allowed us to also expand into the US.
Last year we were a team of 10 people. This year today, we're a team of 33 people.
We've basically, doubled in size, which is fantastic. But, it's not just that. It's the impact we've generated. It means we've been able to employ more Aboriginal and Torres Strait Islander staff. We've been able to train more junior lawyers as well, particularly in the regions, that you know, is often hard to do. And that, in turn, creates impact in the communities in which we're living.
To anyone thinking about applying, just do it.
I encourage you to get involved, jump on the website, or find out what award you're eligible for, and go for it.
Yeah, companies should be really proud of the work that they're doing and this is just such a great platform to highlight that and and tell the story about all of this innovation and great work that's happening. So, I think put in that submission.
It's been such a fantastic event. There is such a great energy in the room.
The thing that I like best about these awards is the way that they showcase really wonderful Queensland businesses. And, this is a great opportunity for us to say thank you to some of the best of the best across the state.
I'm very supportive of local businesses. I see the benefit on the ground in making impacts in communities, in the lives of Aboriginal and Torres State Islander people. So, it's so fantastic that the Queensland government have this policy cause it's not just about government doing this, it's about all of us having a hand in creating social change across the country. And, this is the easiest way to do it by, you know buying from businesses that generate social impact.
2021 Award winners
The winners of the 2021 Buy Queensland Supplier Awards were announced at a ceremony in Brisbane as follows:
Award category
Award recipient
Putting Queenslanders First Award
Winner
Munster Services Group Pty Ltd
Highly commended
Aussie Active Desks Pty Ltd
Diversity through Supply Chains Award
Winner
Ochre Sun
Highly commended
Ability Enterprises Ltd
Delivering for Queensland Award
Winner
MCP Health
Highly commended
AGINIC
Minister's Buy Queensland Award
Winner
SupplyAus Pty Ltd
Highly commended
Snap Fresh Pty Ltd
MCP Health
2021 Awards ceremony photos
Image carousel
2021 Buy Queensland Supplier Awards trophies

Putting Queenslanders First Award winners

Diversity through Supply Chains Award winners

Delivering for Queensland Award winners

Minister's Buy Queensland Award winners
2021 Awards ceremony video
MC (00:02:00):
The Buy Queensland Supplier Awards is all about you. The individuals and the organisations helping grow a strong Queensland economy, by supplying goods and services to the Queensland government.
Sharon Bailey (00:16:66):
Buy Queensland Supplier Awards is a wonderful opportunity to showcase some of our excellent suppliers to government. We have so many wonderful Queensland-based businesses, that not only provide excellent, exceptional products and services, they also go above and beyond to contribute to their local community. So this is an opportunity just to showcase that commitment and celebrate it.
Peter Lacey (00:40:12):
I think the awards are a wonderful opportunity for the best in class of our suppliers, to demonstrate to their peers what's possible through the Buy Queensland approach.
Paul Martyn (00:52:89):
And that's what these awards celebrate, Queensland firms providing great products and serving the community, and government money being invested locally.
Jocelyn Elliott (01:02:44):
Stepping up on the stage today was a lovely feeling. I was a bit surprised of course, but it was a very proud moment, a wonderful feeling, great recognition. And we've been very fortunate to be part of the awards today.
Alana Fallini (01:14:81):
Today's monumental for us. Stepping on that stage and getting the award was wonderful.
MC (01:21:21):
Ochre Sun. Munster Services Group. Ability Enterprises. Aussie Active Desks. Aginic.
The Hon. Mick de Brenni MP (01:36:80):
MCP Health to come up onto the stage. Snap Fresh. I'd like to welcome Snap Fresh to the stage. It is my great pleasure to announce that the award for 2021 goes to SupplyAus. Please welcome them to the stage
Sharon Bailey (01:58:27):
These are incredibly happy occasions. There's a lovely light celebratory mood in the room, and it's just terrific towards the end of the year, to be able to do that, to be able to bring people together, to celebrate achievements and congratulate people for the great work that they do.
Tracey Scanlan (02:14:76):
The vibe in today's room was amazing. The diversity of businesses that have been recognised here today, the fact that people come from manufacturing, they come from service provision. Just the different organisations that all contribute to the betterment of Queensland is fantastic.
Hiranjan Aloysius (02:32:68):
Today, the awards event, I thought was very Queensland. And I just love the way that it reflected Queensland's approach of let's get it done, let's build Queensland. I just loved it.
The Hon. Mick de Brenni MP (02:48:02):
We have now done business with 57,990 Queensland businesses, an extraordinary number, nearly 60,000 Queensland businesses now supplying to our government. That has a value of $36 billion.
Lesley-Ann Clay (03:03:35):
Buy Queensland approach helps everyday Queenslanders because it keeps our money local, it keeps our economies going, and it keeps our jobs in our local communities.
Sharon Bailey (03:11:84):
The Buy Queensland approach is all about ensuring that we keep a lot of the government spend in Queensland with Queensland businesses.
Oscar Liviero (03:19:09):
So, you know, it promotes businesses. It encourages and stimulates the economy. It does a world of good within Queensland.
Eric Guthrie (03:25:80):
We met another company outside the door who we've never met before, and they've won an award here tonight as well you know. And it looks like we're going to be doing business together. And like, that's Buy Queensland isn't it? Two Queensland companies meeting outside the Queensland Awards, that will do business in the future together.
Ben Rose (03:42:77):
It's nice to be able to reflect and see how far we have come. And we're really grateful for that opportunity and really proud of what we've achieved.
Alana Fallini (03:55:29):
Awards clock, these little milestones in success that make the whole bigger picture for us worth it. You get to celebrate with other like-minded individuals so today was pretty special for us.
Last updated:

21 November 2023