Awards celebrate local suppliers
Date: 20/05/2022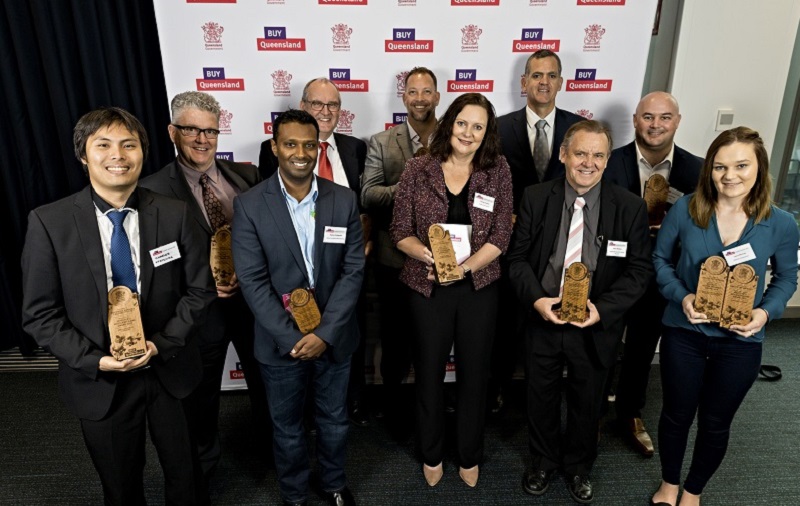 The inaugural Buy Queensland Supplier Awards celebrated organisations and individuals that supply the Queensland Government.
The Buy Queensland approach
Since the launch of the Buy Queensland approach in 2017, the Queensland Government has changed the way it buys. When we spend government money, we are prioritising local benefits.
This includes supporting Queensland jobs, backing local business and ensuring better economic, social and environmental outcomes.
In 2018-19, the Queensland Government invested more $16.5 billion with just over 32,800 Queensland-located companies across all types of procurement.
The Buy Queensland Supplier Awards provided an opportunity to celebrate the success of Buy Queensland, by recognising the individuals and organisations that are contributing to a strong Queensland economy.
Award winners
On 28 August 2019, the winners of the first Buy Queensland Supplier Awards were announced at a ceremony in Brisbane.
The awards recognised individuals and organisations for their roles in creating jobs and boosting economic and social outcomes.
A total of 19 awards were made across three categories:
Putting Queenslanders First – contributing to genuine, quality and secure ongoing jobs for Queenslanders;
Diversity in Procurement – demonstrating diversity in procurement, or corporate social responsibility in their internal company policy or supply chain; and
The Minister's Buy Queensland Award – making an impact on the local and/or regional community.
The awards acknowledged businesses based in Regional or City locations (including Brisbane, Gold Coast, Ipswich, Logan, Redlands and Moreton Bay); and Small or Medium or Large sized businesses.
The winners ranged from Toowoomba-based Ability Enterprises, a not-for-profit social enterprise providing job opportunities for people who face barriers to employment to family-owned company BMD Constructions Pty Ltd, which played a key role in the disaster recovery after the major floods in North Queensland in early 2019.
Read more about the award winners in each category.
Contact
Email BuyQueenslandEvents@hpw.qld.gov.au for more information.
Last updated:

4 December 2019